Residential Services

Your home is a living entity, unique in its design, use and what it requires to run at its best. It's one of a kind, just like you. And you want it to be as comfortable and healthy an environment as it can be. We're a little different than other HVAC companies in that we help you think about how you live in your house. We can show you options that can help you literally breathe easier, keep the right rooms at the right temperatures at the right times, and save you effort and energy. Because we love to pass on our years of knowledge and experience, we can help you choose, install, maintain or fix your heating and air conditioning systems in a way that will suit your specific needs.
Services Offered:
Service, Repair
Changeout
(Replacement of existing systems)
New Installation
Indoor Air Quality
Load Calculations
HVAC system design
Geothermal installation
Multi-evaporator –single condenser system design (Mitsubishi systems)
After Hours Service
Service Contracts (Preventative Maintenance)
Gas Furnaces
Sealed Duct Systems
Common Questions:
Q:
My home seems to cause me to have allergies or my head feels "stuffy", why is this?
A:
The air in most homes volatile organic compounds, biocides and particulates. These come from carpets, paints, household cleaners, candles, and pets. There are whole home air purifiers that can be installed that consist of filters and UV lights. These purifiers kill and collect harmful air pullutants.
View Residential Portfolio
Contact Us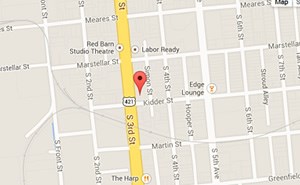 Green Dot Heating & Air
1227 S. 3rd Street
Wilmington, NC 28401
910-791-0480 - Phone
910-772-9719 - Fax
Hours of Operation:
Mon-Thurs 8:00 a.m. - 5:00 p.m.
Fri- 8:00 a.m. - 4:00 p.m.
Weekends- by appointment
Did You Know...
...Adding an extra duct to a sun room can make it comfortable year-round.
...60% of all allergy symptoms can be controlled through proper filtration.
...Having separate temperature controls for different parts of your house can save you money and make you more comfortable.
...Installing an energy recovery ventilator to an existing commercial HVAC system can save 10-17% energy usage.
...Installing inverter driven drives on an existing HVAC system will provide dehumidification control as well as save energy.
...Manufacturers are producing environmentally friendly refrigerants for commercial applications.