Commercial Services

The proper design and maintenance of commercial heating and cooling units are key to maximizing an organization's bottom line. With our refrigeration license and knowledge we have the expertise needed to design efficient, effective systems that help operations run smoothly, keep everyone comfortable, and controls costs.
Services Offered:
New Installation
Service, Repair
System design
DOC Controls
Indoor Air Quality
Load Calculations
Piping
Boilers
WSHP- Water Sourced Heat Pump
Service Contracts (Preventative Maintenance)
Common Questions:
Q:
My system is not too old but my duct work is beginning to fall apart, is this harmful to my system?
A:
The answer is yes. Duct work that is not insulated or sealed properly will pull dirt into the system and into the building. When the system is insulated and the connections are sealed, it will prevent dirt from entering the building and the system running continuously, reducing costs significantly.
View Commercial Portfolio
Contact Us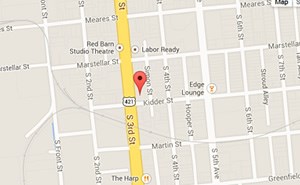 Green Dot Heating & Air
1227 S. 3rd Street
Wilmington, NC 28401
910-791-0480 - Phone
910-772-9719 - Fax
Hours of Operation:
Mon-Thurs 8:00 a.m. - 5:00 p.m.
Fri- 8:00 a.m. - 4:00 p.m.
Weekends- by appointment
Did You Know...
...Having systems regularly maintained can save on energy bills and extend the lifetime of a unit
...A poorly designed duct system will decrease efficiency of a system up to 40%
...Programmable, digital or off-site controls provide significant energy savings
...There are variable speed multi-evaporator systems that can be installed in office buildings instead of conventional rooftop, packaged or split HVAC systems
...When dealing with nursing homes, schools, or office buildings, the best system design is one that allows for individual room control
...Installing an energy recovery ventilator to an existing commercial HVAC system can save 10-17% energy usage.
...Installing inverter driven drives on an existing HVAC system will provide dehumidification control as well a save energy.
...Manufacturers are producing environmentally friendly refrigerants for commercial applications.