About John

It was inevitable that John would develop a passion for all things hot and cool. He grew up in Ireland with parents of modest means, his father working for the Royal Marines and his mother a property manager for a very wealthy man. John's maternal grandmother, who danced to her own drummer, was a major force in his life. Determined to become a success, John earned his way into a prestigious English building institute, and served in the British military while in college.
Later during his studies, to keep things cool, he took a big job with Carrier International, who let him take his engineering skills on the road – and overseas. During that same time, to heat things up, he spun records at some of the coolest clubs in Britain.
Alas, time moves on and more responsibility beckons. John graduated, left Carrier and the night life, and became the youngest regional manager for York International in Saudi Arabia.
Always looking for opportunity, John was then hired away by Liebert of Ohio, so moves his young family across the Pond. But he missed home, so returned to Ireland for several years before being lured back to the States by an HVAC company in Pender County. Shortly thereafter, in 1998, John started Green Dot, and has been keeping things hot and cool in Southeastern North Carolina ever since!
Did You Know...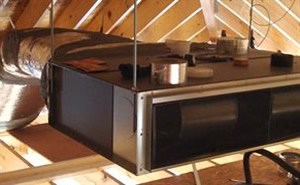 ...If your heating or cooling system is over ten years old you're losing money.
...A poorly designed duct system can lower your systems energy efficiency by up to 40%.
...The air in most homes contains Volatile Organic Compounds, biocides and particulates which are detrimental to your well-being.
...Most homes operate at a negative pressure which allows outside contaminates and pollutants into your home.
...Controlling humidity between 45 to 55 % improves your health.
...Controlling humidity removes the opportunity for mold growth.
...Encapsulating the attic in most homes saves at least 35 to 40 % of the energy needed to heat and cool.
...By sealing your complete home with open cell foam you can significantly reduce the size of your HVAC system.